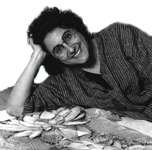 Mona Shiber, an artist who studied architecture, music, art & comparative religion, holds both B.F.A. and M.F.A. degrees. She has been teaching in the arts since 1984. Mona has practiced Expressive Therapies and mindfulness in a clinical setting. Her artwork and
teaching style thematically integrate these varied interests.
Additionally, she consults on art and performance projects, works
with community arts projects, participates in community arts organizations, coaches voice and sings.

Mona is proprietor of Clear Vision Studio. Since 1981, her works have been in public and private collections, shown throughout the US and internationally. Her work is an exploration via two streams: concept and experience. The conceptual stream explores the perennial philosophy of timeless universal truths. The experiential stream explores mindfulness, the practice of being fully present in the truth of each moment.

Her art has two main themes, repeated in varied expressions. First, the work explores cross-cultural human ideals, such as compassion, tolerance, and the spiritual ground of being. Second, the work maps the development of human consciousness.

The media are primarily ceramics, drawing, and mixed media, which take the forms of installation, bas reliefs, public art, and sculptures.

Clear Vision Studio offers individual and group classes focused on visual art and individual vocal coaching.

Workshops are also available.

Commissioned works, plus works at Clear Vision Studio, are available for sale.

For more information, please call 865-455-4ART or e-mail (calling is better).

Experience possibility, open to creativity, settle into the now. Mona Shiber holds an MFA in Visual Art along with a singing background, started meditating in 1974 and began her training through the Center for Mindfulness in 1993. She has been color consulting, making art, teaching and breathing deeply for over 25 years. Mona has much depth to share in her classes.